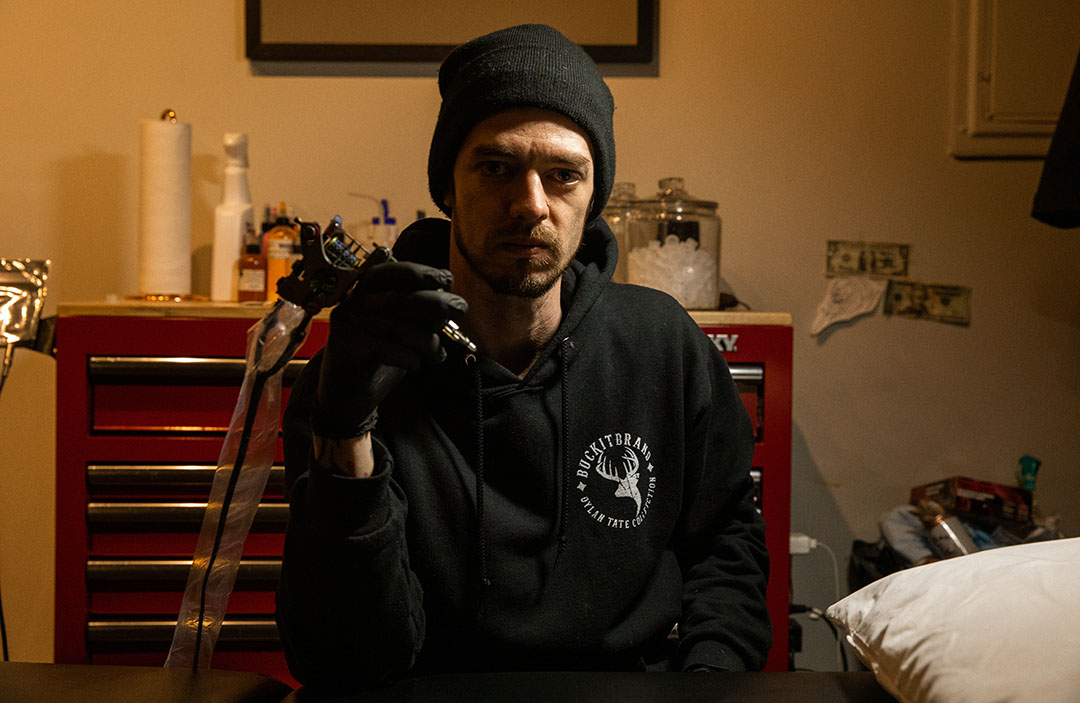 Hello! My name is Ben, and I'm the owner of Cosmic Reaper Tattoo. Ten years ago, after getting tattooed a lot and being in a shop environment, I discovered my passion in art and tattooing. I primarily focus on an illustrative/traditional take on my tattoo style, but I welcome all ideas. Tattooing has given me so much throughout the years that in November of 2020 I decided it was time to give back and create a safe, warm, and comfortable environment to host and create. Thus, Cosmic Reaper Tattoo was born. To me, tattooing is a sacred practice carrying lots of meaning, responsibility, and integrity. I am so incredibly grateful to everyone who has supported me and to all of my friends and clients. Tattooing can be serious or silly, but it's always been fun no matter what is being made. I look forward to the future years here in the Neighborhood of the Arts and can't wait to see where it takes us.
Ben's books are currently closed.  Please come back soon to look for availability.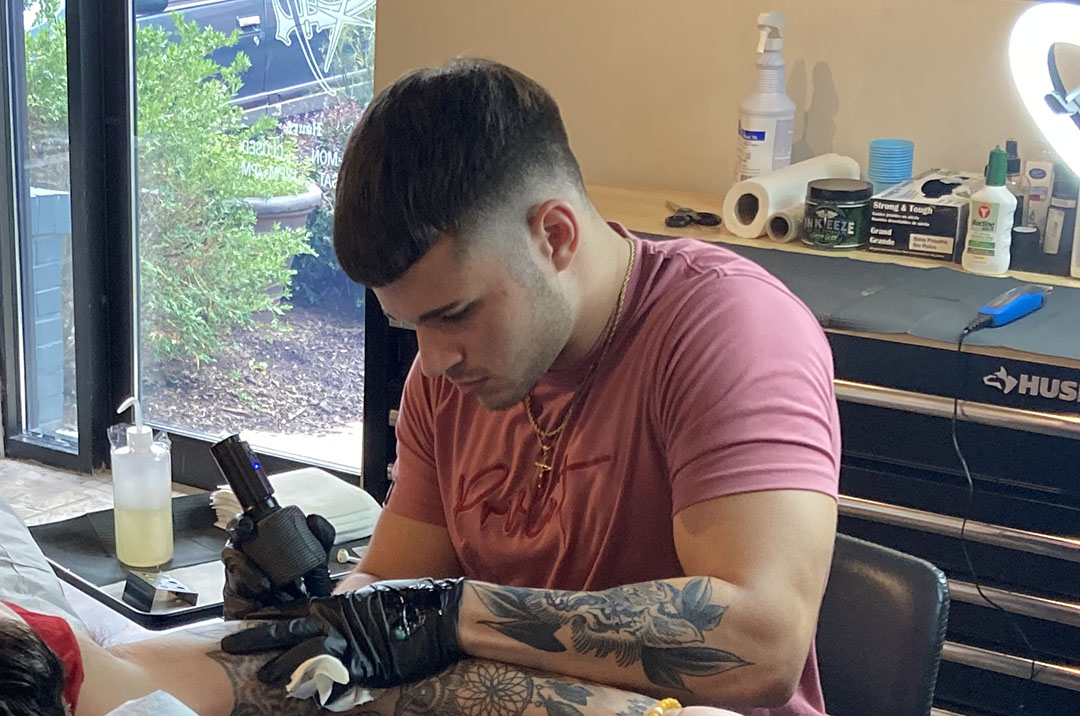 Jonny Ramos-Alcorn
Artist
My name is Jonny, and I graduated with an Art degree from The University at Brockport. I found my passion for tattooing after experiencing what it's like to get tattooed. I found my home at Cosmic Reaper Tattoo where I specialize in fine line and black/grey work. I look forward to working with all my clients and appreciate all the support from friends and family!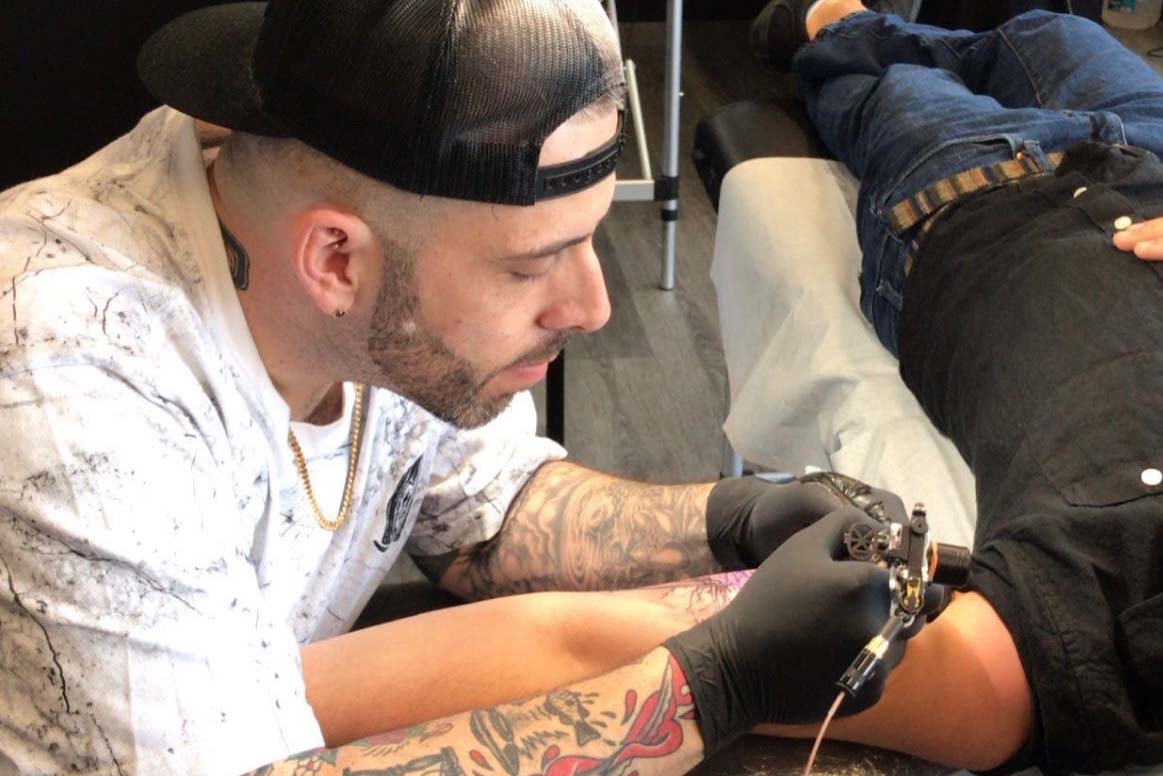 I love tattooing because I like to meet people from all walks of life. I love classic tattoos and am always exited to do them but I also enjoy other styles- I want to hear your ideas and make them a reality!
My interest in tattooing started as a kid when I saw a tattoo for the first time. It was a tiny black tattoo on my dads shoulder that he got in Vietnam when he was drafted into the military. I imagined him being in the jungle in the middle of a war getting tattooed in the most primitive way and my imagination went wild thinking about what he must have been feeling. I was so fascinated by how that moment in time was captured by this mark on his arm. As a teenager I used to spend time in the local tattoo shop in my town and would be mesmerized by all of the flash on the walls. Classic flash had it all; life, death, satire, romance, heartbreak and everything in between captured in design-forward, powerful classic images.
Both of my parents were artists and I have always been creating art in many different mediums for my entire life. My dad's most recent art endeavors were his wood burnings that were sold at Aaron's Alley until he passed away in 2021. My mother was a gifted painter and illustrator and started teaching me as soon as I was able to hold a crayon. I've never been the best at expressing myself with words but always felt that I could get out what I needed to when drawing or painting. It's always been a part of me and has been a necessity for my well being since as far back as I can remember.
I was drawn back to my interest in tattooing in 2021 and decided that it was now or never and went all in. I'm so grateful to all of my friends and fellow tattooers for supporting and encouraging me along the way and that I get to work in a field that I'm so passionate about.
I feel incredibly fortunate to work in such a warm and welcoming atmosphere. The vibe at Cosmic Reaper is one more of family than co-workers. We care about each-other and our clients in the same way. Money is incidental, we're really here to share an experience and make our friends and family happy.
Thank you for reading this and to everyone who's been a part of this journey 🙏
To book an appointment with Jon, please DM him on Instagram